A warm welcome to my website and blog!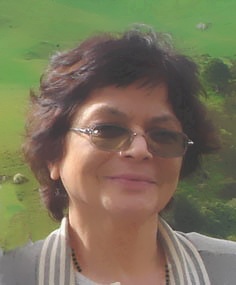 Hi! I'm Veena Patwardhan, a.k.a. Veena Gomes-Patwardhan. I'm a Mumbai-based freelance writer, copywriter, copy editor, and science journalist.
I have  around 20 years of experience in writing promotional material for marketing products and services, and penning features on travel, science-related issues, and topics that touch on everyday life such as the environment, family relationships, health, and food.
Clicking on the "About me", "Services", and "Portfolio" links above will provide more details of my multidimensional professional background. It could also convince you that I've been playing around with words for a long time now. So, if you're here because you're looking for a copy editor to fine tune what you've written, or a copywriter who can transform mere words into copy that motivates customers into action, or someone who can pen engaging blog posts, you've stopped at the right place.

On the personal front, let me see… there's wife, mother, mother-in-law, daughter, sister, niece, aunt, cousin, godmother, daughter-in-law, sister-in-law, friend… phew! That's a l-o-n-g list of roles for sure. But then, having to wear multiple hats is part of the human condition. Of life. If you ask me, juggling a whole lot of hats is not all that difficult. The trick? Just make sure you're wearing the right one at the right time.
And guess what? Having crossed an important milestone, I've now added one more to the heap. A senior citizen's hat!
About my blog
New beginnings are always exciting. And making two new beginnings is doubly so. In my case, I'm adventuring into the senior citizen years and launching a website. Browse around and you'll find information about: My professional credentials and services; My Portfolio; and My first novel (a project that's underway).

But the focal point of this site is my blog. Here's where I publish the informative and entertaining blog posts I craft after digging around for interesting nuggets of information to share with others.
Clicking on the menu bar at the top of the page, or on the link above this infographic will take you to a chronologically arranged mix of blog posts from the different categories. Alternatively, clicking on the links under 'Categories' on the right will take you directly to the posts in each individual category.
You can be sure my blog won't have any pompous "In our time we used to" rantings.  Or preachy stuff like "Cover up, you're too old now to dress like Jennifer

Lopez". And nothing depressing either.  Rather, it's just a little something to cheer you up. To put a smile on your face and maybe make you want to go out and smell the roses.
Now something for my fellow seniors to think about:
Growing old is unavoidable; but nothing can stop us from staying young at heart. So why waste time and energy worrying about wrinkles, or body parts no longer being able to defy gravity? Now's the time to add more colour to our lives like the leaves in autumn, to learn new things, count our blessings, acknowledge new blessings… That's the only way to make the most of each new day, and, to quote the witty Jonathan Swift, author of the classic Gulliver's Travels, make sure we "live every day" of our life.

I'll be sharing something new with you from time to time, so do stop by often. And as a fellow adventurer, don't forget to leave me a comment (in the comments box below each post)… I would love to hear from you.
Enjoy the stuff here, and thanks for visiting!