Have you laughed lately?

Here's something to tickle your funny bone.
A senior couple went to a popular restaurant for breakfast where the Seniors' Special was two eggs, bacon, hash browns and toast for $4.99.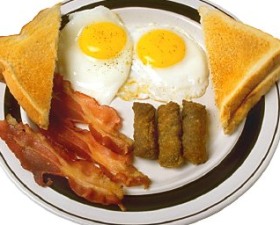 "Sounds good," the wife said. "But I don't want the eggs."
"Then I'll have to charge you $5.99," the waitress warned her.
"Why?" the lady asked.
"Because you're ordering a la carte."
"You mean I'd have to pay for not taking the eggs?" the wife asked incredulously.
"YES!" stated the waitress.
"Oh… Well, I'll take the special then," the wife said.
"How do you want your eggs?" the waitress asked.
"Sun up," the man said.
"Raw and in the shell," the wife replied as her husband looked on perplexed.  
The couple tucked into their breakfast. The lady finished the rest of the food on her plate and took the two eggs home!
The moral of the story: DON'T MESS WITH SENIORS. We've been around the block more than once!
On a more serious note, remember that eating well in the senior citizen years is all about choosing the right foods and getting creative in the kitchen. Include lots of lean proteins, whole grains and colourful fruits and vegetables in your diet.