Professional services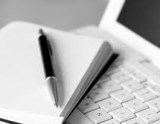 Please click on the links below to find out more:
A wealth of experience
The British novelist Sir Terry Pratchett said, "There's no such thing as writer's block. That was invented by people in California who couldn't write."
While I agree with him that there's no such thing as writer's block, I have to admit that a writer's life is not far different from running an obstacle race. I mean, there's Desperate Housewives on TV, all those forwarded emails you simply have to forward to 20 others for fear of breaking some sacred chain, there's always a sale on at a mall nearby, your neighbour's grandmother is sick, your dog is hankering for a stroll in the park… so many things to take care of, so many distractions, but you have to keep your nose to the grindstone… and keep writing. And I've kept at it, writing for national and international publications and scores of clients, many of them repeat clients… for almost two decades now.
I specialise in travel and humor writing. And as a science journalist, I am more drawn towards writing about research and development, the environment, and health and wellness. However, I would be happy to write on topics ranging from molecules to moose or anything that catches the fancy of my editors.
I bring almost 20 years of experience, a can-do attitude, and a whole lot of enthusiasm and sincerity to every assignment I work on. So if you need an editor, copywriter, or writer who is:
A thorough professional

Highly experienced

Friendly and great to work with

Capable of writing on diverse topics

Proficient in different writing styles

Dependable and meets deadlines
… and whose work is:
Well researched

Crisp and sharply focused on your needs

Delivered on time
… then you've come to the right place. I will be happy to leverage my professional skills and years of experience in the field for the success of your organization.
I welcome new writing/copywriting/copyediting projects from Indian as well as international clients. If you need to discuss any assignment with me, you can reach me at:
veenawrites16@gmail.com or linkedin
I promise to get back to you as soon as I can.
And as proof of all that I've been gushing about on this page, I've displayed a select few samples from my portfolio of work here.