Legendary Goan poet B. B. Borkar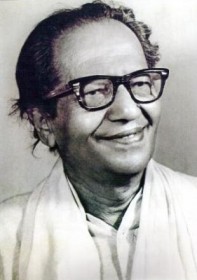 His poetry is a celebration of his Goan-ness, every word drenched in a deep understanding and a passionate enjoyment of all things Goan. Only someone Goan to the core could have written:
Please Sir, Mr. God of Death,
Don't make it my turn today,
not today,
there is fish curry for dinner.
Which Goan worth his salt wouldn't identify with this crazy craving for fish curry? Or on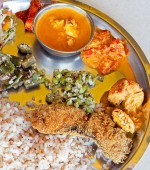 reading these lines wouldn't envision tanatalizing images of thick, fragrant fish curry trickling its way into the spaces between plump grains of steamed unpolished rice? And not just these lines, but all the works of Goa's legendary poet Balkrishna Bhagwant Borkar exude the very essence of Goa, her sublime natural beauty and the character and foibles of her people.
A multi-lingual poetic genius
B. B. Borkar or Bakibab Borkar as he was fondly called was born on 30 November, 1910, in the village of Curchorem. Raised in a devout Hindu joint family, as a child he would wake up to the chants of bhajans and abhangas resounding through his ancestral house in Borim.
After his matriculation, he went on to complete the tough teachers' training course at the Escola Normal in 1936, where he was exposed to world literature, thanks mainly to his Goan teacher, the scholarly Dona Propercia Correia Afonso.
He then taught in several schools across Goa before joining the Pune Akashvani Kendra in 1955. A stint at the Panaji Akashvani Kendra followed in post-liberation Goa from 1962 till his retirement in 1970. Bakibab was also the President of the Institute Menezes Braganza from 1964 to 1970 and was honoured with the Padmashri Award by the Government of India in 1967.
Bakibab Borkar was a polyglot and besides his mother tongue Konkani also knew Marathi, English, Portuguese and Hindi. His linguistic talents are evident from the ease with which he could write poetry both in Marathi and Konkani.
He was just 20 years old when he commenced his literary career as a Marathi poet. But it wasn't long before poetry lovers began likening the lyrical quality of his poetry to that of the Marathi poet B. R. Tambe. It was only after he became well-known in Marathi literary circles that he took to writing in Konkani.
However, the seeds of the desire to write in his mother tongue were sown when he was a teenager. Babikab had once admitted that as a young lad of 13 or 14 when he read Shennoi Goembab's story in Konkani Mhoji Ba Khoim Geli? (Where has my mother gone?) he was moved to tears.
Interestingly, the other person who tweaked his interest in Konkani literature was a humble toddy-tapper, Patris, who had the habit of singing simple but engaging Konkani folk songs and poems as he worked. So when he wrote his first anthology of Konkani poems Painzonnam (Anklets) in 1960, Bakibab dedicated it to Patris for opening his eyes to the great potential of Konkani as a literary medium.
But Bakibab's poetry was shaped not just by the environs in which he grew up, but also 18th and 19th century romanticism. In those days, most Goan poets tended to use standard and done-to-death phrases or formal poetic diction and formats. In contrast, B. B. Borkar, like the poets of the Romantic era, such as William Wordsworth, Samuel Taylor Coleridge, and John Keats, believed that the language of poetry should express "the essential passions of the heart".
Not surprisingly therefore, many of Bakibab's poetic creations unabashedly portray the many nuances of the human condition. In the title poem Painzonnam, from the anthology of the same name, the poet remembers the thrill of meeting his beloved years ago under the banyan tree in the woods.
Tea disa voddakoden, goddod tinsanam,
Mond, mond vazot ailim, tujim go painzonnam.
(It was on that day, as I waited under the banyan tree, that the soft tinkling of your anklet bells came to me from the gathering darkness.)
A staunch nationalist, and resolute supporter of Konkani
B. B. Borkar idolized Mahatma Gandhi and Rabindranath Tagore. But what pulled him into the liberation movement was attending the historic meeting addressed by Dr. Ram Manohar Lohia in Margao on 18 June, 1946. Fired by revolutionary zeal, he began to write poems to awaken the spirit of freedom in the hearts of fellow Goans.
But soon, an arrest warrant issued against him by the Portuguese government made him flee to Bombay. But even from there, he kept the fight for freedom alive by editing the Marathi periodical Amcha Gomantak (Our Goa) in 1948 and the Konkani periodical Porjecho Awaz (The People's Voice) in 1955 in both Devanagri and Roman scripts.
Bakbab was passionate about the Konkani language and Goa maintaining their separate identity. Appalled by the very idea of Goa merging with either Maharashtra or Karnataka, he had penned several anti-merger poems in the run-up to the famed Opinion-Poll of 1967.
He dashed off scorching lines warning Goans about the reprehensible intentions of "those from over the ghats/borders" saying: "Gharak chudd lavun sodta, oddunk apli viddi." (They are trying to set our house on fire to light their bidis.)
But within a few years of Goa acquiring statehood, B. B. Borkar was a disillusioned man. The shameful antics of some of the elected representatives prompted him to compose the poem Swatantrya Nhoi! (This is not freedom!) His anguish is clearly discernible in lines like (translated into English):
… Where living is nothing but slow death
… Where the mind is full of fear
… Where tomorrow is hedged in by today
That is not freedom then, not freedom!
…Where highway robbers and rank assassins
Themselves become the common man's leaders
That is not freedom then, not freedom!
The multi-faceted poet of Goa
Bakibab Borkar made a mark in diverse forms of literature including short stories, novels, translations, and essays. But his real forte was poetry for which he received several prestigious awards including the Sahitya Academy Award in 1981 for Sasai (The Divine Presence), his last anthology of Konkani poems.
There are many shades to B.B. Borkar's poetry. Some poems are sensual, others pastoral, and still others philosophical. You could say that like Walt Whitman he was a 'poet of the body' and a 'poet of the soul'.
But above all, Bakibab was a poet of Goa. A true-blue Goan till his last breath, he had written, "When I die, I would like my body to be consigned to the ocean. For, all my life I've eaten fish; now let them eat me." Well, after Bakibab Borkar breathed his last on July 8,1984, in Pune, his ashes were immersed by the Indian Navy into Goa's Mandovi River.
Let us salute this great son of Goa and pledge to keep his memory and his celebrated literary works alive for the benefit of future generations of Goans.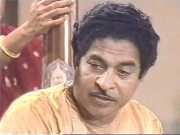 In conclusion, here's a link to one of Bakibab Borkar's immortal Marathi poems Nahi Punyachi Mojani (No stopping to make an assessment of good deeds) set to music and sung by another great Goan – Pandit Jitendra Abhishekhi.
Enjoy!